David Chipperfield (Londres, 1953)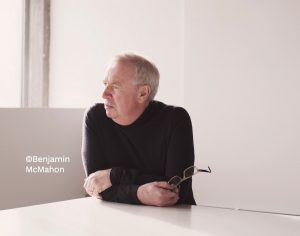 He studied architecture at Kingston School of Art and the Architectural Association School of Architecture in London before founding his own practice in 1985, with offices in London, Berlin, Milan and Shanghai. He is a Fellow of the Royal Institute of British Architects and an Honorary Fellow of the American Institute of Architects. His numerous awards include the Order of Merit of the Federal Republic of Germany (2010), the RIBA Gold Medal (2011) and the Praemium Imperiale of the Japan Art Association (2013).
He is the author of such outstanding works as the restoration of the Neues Museum in Berlin (2009) and the extension of the Kunsthaus in Zurich (2020). And in Spain he has built, in collaboration with Fermín Vázquez/b720, the 'Veles e Vents' building for the America's Cup in Valencia (2006) and the City of Justice in Barcelona (2008). Apart from his professional activity, David Chipperfield has given classes and lectures at architecture schools all over the world. In 2012 he was curator of the Venice Architecture Biennale, which he directed under the theme 'Common Ground'. In 2017 he created the RIA Foundation in Spain, a private, non-profit organisation that promotes the economic, environmental and cultural development of Galicia.