Suppliers of tools and materials for tiling floors and walls are moving to a new space at
Cevisama 2018. The fair takes place from 5th to 9th February and is forecast to show a marked increase in the surface area given over to displaying and selling product. The number of pavilions taken up by the fair is set to rise to nine, with total exhibition space easily in excess of 100,000 square metres. Tools and materials suppliers will be in a special space at this Cevisama showcase that will also provide direct access to the other two events running concurrently: Fimma-Maderalia, the specialist fairs dedicated to machinery, materials and components for the wood furniture-making and decor sectors, which share business channels and routes to market with Cevisama's exhibitors.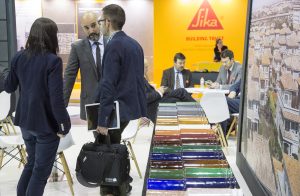 The new location is further encouragement for suppliers of tools and materials for tiling floors and walls to exhibit at Cevisama. They will also be seeking to benefit from the expected increase in the number of professionals visiting as a result of the organisers having invested more effort than ever in order to exceed last year's figure of almost 84,000 buyers registering to visit. The drive has led to leading manufacturers having signed up to exhibit, including Grupo Puma, Rubí, Cementos Capa, Peygran, Sika, Fila and Propamsa, amongst others.