The jury is chaired by architect Jacob van Rijs of the famous MVRDV studio
The awards are divided into three categories: Architecture, Interior Design and Final Degree Project, with prizes totalling €39,000 
ASCER (the Spanish Ceramic Tile Manufacturers' Association) has announced the eighteenth edition of its Tile of Spain Awards of Architecture, Interior Design and Final Degree Project. The magnificent panel of judges is made up of internationally-acclaimed professionals working in the architecture and design sectors. The Tile of Spain Awards are intended to promote the use of Spanish ceramic tiles in architecture as well as interior design projects (both in Spain and abroad) and are sponsored by Endesa, Weber-Saint Gobain, the Port Authority of Valencia and CESCE.
Chairing the panel is Jacob van Rijs, founding partner of the prestigious MVRDV studio based in Rotterdam and with an international track record. The rest of the jury is composed by Inês Lobo; Portuguese architect; David Lorente, founding partner of the H Arquitectes studio; Eugeni Bach, of Anna & Eugeni Bach Arquitectes; Héctor Ruiz Velázquez, architect founder of RUIZ VELÁZQUEZ architecture & desig team; Tomoko Sakamoto, editor specialized in architecture; and Ramón Monfort, of the College of Architects of Castellón.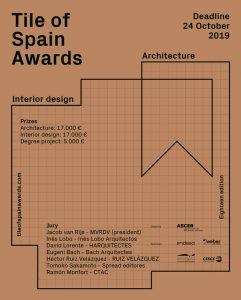 Entries for the 18th Edition of the Tile of Spain Awards may be submitted from now until 24th October 2019.
The Awards have a prize fund of 39,000 euros distributed in three categories. The two main categories are Architecture and Interior Design, each with a cash prize of 17,000 euros. The panel of judges are also entitled to give special mentions in either category. The third category is the Final Degree Project, targeting students of Architecture, and has a cash prize of 5,000 euros. Entrants from both Spain and abroad are entitled to take part in all three categories. Full details of the 18th edition, the rules and candidate registration forms are available at  www.tileofspainawards.com
Winner of the architecture prize at the latest edition of the Ceramics Awards in the architecture category the project for the entrance to the intermodal station of Palma de Mallorca by the architect Joan Seguí Colomar; and in interior design the project "House facing the sea" by OAB Arquitectes (Xavier Martí and Lucía Ferrater). Images, blueprints and reports of last year's winning projects can be downloaded from the Award's website.
About the judges
Jacob van Rijs (MVRDV) – Chair of the panel of judges
Jacob van Rijs (Amsterdam 1965) is a Dutch architect. In 1993 he set up the MVRDV studio with partners Winy Maas and Nathalie de Vries. Based in Rotterdam (The Netherlands), yet with an international vocation, the studio delivers solutions for contemporary urban and architectural problems in regions throughout the world. A highly collaborative design-based methodology based on research allows for the creation of open, ground-breaking projects aimed at enabling cities and landscapes to move towards a better future.     Jacob van Rijs is a guest professor at the Berlin Technical University and has previously taught at the Munich TU, Delft TU, Wismar University, the Madrid School of Architecture, the Royal Danish Academy of Fine Arts in Copenhagen and Rice University, amongst others.  Since 2011 he has chaired the international programme at the Royal Institute of Dutch Architects (BNA).
MVRDV's work is exhibited and published throughout the world and has received numerous international prizes. Two hundred and fifty architects, designers and urban planners deliver projects based on a multidisciplinary and collaborative design model that involves in-depth research and creative processes.
The studio's best-known completed projects include The Netherlands Pavilion for the World Expo 2000 in Hannover; Market Hall, which combines a housing unit and store in Rotterdam;  Pushed Slab, a sustainable office block in Paris;  Flight Forum, an innovative business park in Eindhoven; the Silodam housing complex in Amsterdam; the Matsudai Cultural Centre in Japan; Lloyd Hotel in Amsterdam; Ypenburg housing and urban development in The Hague;  De Effenaar music centre in Eindhoven; the Gyre Boutique shopping mall in Tokyo; and the iconic Mirador y Celosía ('Lookout and Lattice') housing complex in Madrid. The studio is currently working on a series of projects that include a public art warehouse in Rotterdam; the transformation of a mixed-use building in the centre of Paris; mixed-use skyscrapers in New York and   Shenzhen, and a wide range of housing projects in various countries including the Netherlands, France, China and India.  MVRDV is also immersed in large-scale urban planning projects in Bordeaux and Caen (France), as well as a master plan for an eco-city in Logroño (Spain) and a research master plan for the future growth and expansion of Paris.
Members of the panel
Inês Lobo (Inês Lobo Arquitectos Lda)
Inês Lobo (Lisbon, 1966) graduated from the Faculty of Architecture at Lisbon's Technical University. From 1990 to 1998 she worked with fellow architect João Luís Carrilho da Graça.  In 1998 she set up a studio with Pedro Domingos and in 2002 launched her own firm, Inês Lobo Arquitectos, based on a philosophy of the joint reflection of a team of professionals whose mission is to guarantee continuity at each project phase, adopting a broad and coordinated vision.  The work of Portuguese architect Inês Lobo is characterised by buildings featuring pure, streamlined designs and contemporary materials.
Since 2000 she has been a Projects professor at Lisbon's Autonomous University. In recent years she has earned a reputation as an outstanding architecture exhibition curator. Her work in this area includes responsibility for the pavilion at the 2012 edition of the Biennale di Venezia. She has been a member of panel of judges for national and international architecture awards such as FAD 2012 or the Secil Prize in its 2006 edition. In 1999 she received the title of Officer of the Order of Merit from the Portuguese President Jorge Sampaio; in 2013 the "Women Creators of Culture" award and in 2014 the arcVision Women and Architecture prize.
David Lorente (HARQUITECTES)
David Lorente (Granollers, 1972) graduated from the Vallès School of Architecture in 2000. He is a founding partner of HARQUITECTES (2000), a studio based in Sabadell (Barcelona) run by a partnership of four architects, David Lorente Ibáñez, Josep Ricart Ulldemolins, Xavier Ros Majó and Roger Tudó Galí, who all graduated from the Vallès School of Architecture between 1998 and 2000. They have received various accolades for both completed projects and tenders, and have published widely in national and international media. Their work has also been selected for a number of exhibitions and they have been guest speakers at conferences both in Europe and America.
Eugeni Bach (Anna & Eugeni Bach)
Eugeni Bach (Barcelona, 1974) qualified as an architect at the Barcelona School of Architecture (Polytechnic University of Catalonia) in 1999. He is an assistant professor of the Vertical Workshop at the School of Architecture of the International University of Catalonia (Barcelona), directed by Winy Maas (1998) and Duncan Lewis (1999). He was a professor of the Mies van der Rohe Chair at the School of Architecture of the Polytechnic University of Catalonia, under the direction of David Chipperfield (2001). He is a Projects professor at La Salle School of Architecture at Ramon Llull University (Barcelona) (2005-the present) and at the Barcelona Technical School at the Polytechnic University of Catalonia (2015 – the present).
The Anna & Eugeni Bach architecture studio works in a wide spectrum of design aspects, ranging from urban planning and architecture to interior and object design. Their work covers four key areas: professional, teaching, research and cultural activity, all based on an intensely propositive and personal approach.
Their numerous achievements include the following:  finalists at the 2016 edition of the Spanish Architecture and Urban Planning Biennale;  nomination for the Mies van der Rohe awards in 2015; nomination for the  Iakov Chernikhov International Prize for Young Architects in 2015; nomination for the FAD 2015 Award;  winners of the 2014 FAD International Award; finalists of the 2014 FAD Interior Design Award in 2014; winners of the 2014 FAD Interior Design Award; winners of the FAD International Opinion Award in 2014; finalists of the 2013 FAD Awards; nominated for the 2012 FAD Awards; winners of the 2008 Opinion Award; finalists of the 2008 FAD Awards; finalists at the 10th  edition of the Spanish Architecture and Urban Planning in 2009; and nomination for the 7th edition of the Ibero-American Architecture and Urban Planning Biennale. Their projects have been featured in various European journals including Domus, MARK Magazine, Interni, Arquitectura Viva or A10l.
Héctor Ruiz Velázquez (HRUIZ VELAZQUEZ architecture & design Team)
Hector Ruiz Velázquez (Puerto Rico) Architect with a solid American university education with a Master Degree of Architecture from the University of Virginia (USA) with studio sponsorships from the Universities of Harvard, Columbia, Madrid Polytechnic Architectural School and Academy of Andrea Palladio, Vicenza (Italy). He came to Spain to work with Rafael Moneo and later joined Alberto Campo Baeza Studio until he opened his own firm: HRUIZ VELAZQUEZ architecture & design Team.
Ruiz Velazquez projects have materialized mostly in Europe, his architectural practice is closely related with the development of a theoretical foundation in architecture that has the ability to create emotion. In the last five years he has given over 30 lectures on the subject. He has been a visiting professor at several universities and public institutions in Colombia, Panama, Mexico, Germany, Holland, Spain Switzerland, Dubai and Japan.
Tomoko Sakamoto (Spread)
SPREAD is a studio set up in Barcelona in 2012 by graphic designer David Lorente and editor Tomoko Sakamoto. Both partners had previously worked at the publishing firm ACTAR for more than 10 years, producing several books on architecture and design. Spread is currently immersed in a wide range of book design projects.
Ramón Monfort is a founding member of the Ceramic Design Centre, President of the Castellón Region College of Architects and Dean of the Comunidad Valenciana Official College of Architects. He boasts long-standing experience in the sector, and his trajectory has been marked by his commitment to social and sustainable values. He has received accolades for projects such as the Peñíscola Convention Centre or the Canem Gallery in Castellón.
At previous editions, the panels have been chaired by many other leading professionals such as Jorge Silvetti, Iñaki Ábalos, Emilio Tuñón, Manuel Gallego, Juan Navarro Baldeweg, Alberto Campo Baeza, Gonçalo Byrne, William J.R. Curtis, Terence Riley, Eduardo Souto de Moura, Carlos Ferrater, Luís Moreno Mansilla, Patxi Mangado, Guillermo Vázquez Consuegra, Mathías Klotz, Benedetta Tagliabue and Víctor López Cotelo.
Calendar and submission of entries
Closing date for entries: 24th October 2019.
Jury's final decision: week 20 November.
Award ceremony: February 4, 2020 in CEVISAMA (Valencia from February 3 to 7)
Rules and candidate registration: https://tileofspainawards.com