Canyon, Delice and Lavik will have a prominent role in the company's stand at the fair (N2 P1 D48)
'Essence. Timeless Tiles' is the slogan with which Gayafores is participating in Cevisama 2020 (from February 3rd to 7th, at Feria Valencia). These are three words (essence, ceramic, timeless) with which the company intends to synthesize its true DNA, characterized by a long tradition of ceramics that has evolved over time and that today coexists with the latest technological advances in the production process. Today, Gayafores extracts the best of that tradition, emphasizes its ceramic essence and transfers that being and that know-how to the new porcelain collections it presents at Cevisama, a reference event for the ceramic sector that in this edition will occupy more than 120,000 square meters and will be visited by more than 90,000 professionals from 115 countries.
Collaboration with Ana Sansano
In order to capture this 'ceramic essence', Gayafores has rescued a very representative image: the old El Sol factory, specialized in hand-made tiles. Taking as a starting point several photographs of this construction in different periods, this emblem of the company's origins has been updated by Ana Sansano, an illustrator born in Onda (a town inextricably linked to the history of Gayafores), who, from the very beginning, has known how to capture the meaning of the project. "It has been a complicated challenge, totally different to everything I have done up to now and deeply exciting", recognizes the artist, "since I had many ideas and many concepts, but I hardly had any concrete references, but I had to compose, as a puzzle, a mental picture from the existing ones".
Apart from the complexity of the work, the creative process has been determined by the support, as Ana Sansano usually draws on wooden boards, but on this occasion she has also drawn on basque (tile body before firing), taking into account the formats, the tones and, above all, the texture. Each stroke has served to give shape to a personal interpretation of a recovered symbol, which, from her point of view, "represents the essence of what Gayafores is", a company that has known how to maintain the ceramic legacy by always adapting to new times.
Moreover, Sansano assures that "this project, which I have enjoyed day by day and in which I have worked with the transference technique, has allowed me to enter a new field with many professional possibilities such as drawing on a non-conventional surface for me. This means opening a new artistic language on which I want to continue researching". So much so that, as she says, "in this case, the tile as a base has been gaining prominence as the work progressed, finally imposing itself on the drawing". The result, a work of art with different versions that will be presented for the first time at the company's stand at Cevisama 2020, "has made me feel very satisfied and I must admit that, in addition, collaborating with Gayafores has led me to evolve as an artist", she says.
Full of ceramic essence proposals
The new proposals that Gayafores presents at Cevisama 2020 are printed with that halo of ceramic essence that Ana Sansano has illustrated. Tradition, experience and technological vanguard are merged in the new collections, baptized as Canyon, Delice and Lavik, which provide new decorative solutions in which the digital materia is still very present. The use of the latest technology and the most innovative materials allows each piece to have different designs with nuances and details based on unique particles, layers and reliefs.
Along with the new collections on the Gayafores stand at Cevisama 2020 (N2 P1 D48), Aura, Brick Gradient and Carven collections, which were presented at the last edition of Cersaie (Bologna, Italy), will also be highlighted.
CANYON
The range of Gayafores stones grows with this proposal of daring design, with a very worked graphic and with a soft movement. The Canyon Collection is a sinuous, fluid and richly nuanced stone that represents an evolution of the most classic natural surfaces. The application of digital material gives Canyon a unique look, which takes as its starting point different sandstone with its characteristic mixtures of silica, calcium, carbonate or clay.
Detached and profuse in fine details, this stone comes in four formats (12,6"x24,6", 17,7"x35,5", 23,6"x47,3" and rectified 23,3"x46,9") and in four colours (Natural, Grey, Almond and Pearl). In addition, it is accompanied by a mosaic-type decoration (in formats 12,6"x24,6" and 17,7"x35,5"), which stands out for its relief structure but with a continuous surface, producing an effect of light and shade that has great potential for contemporary interior design.
DELICE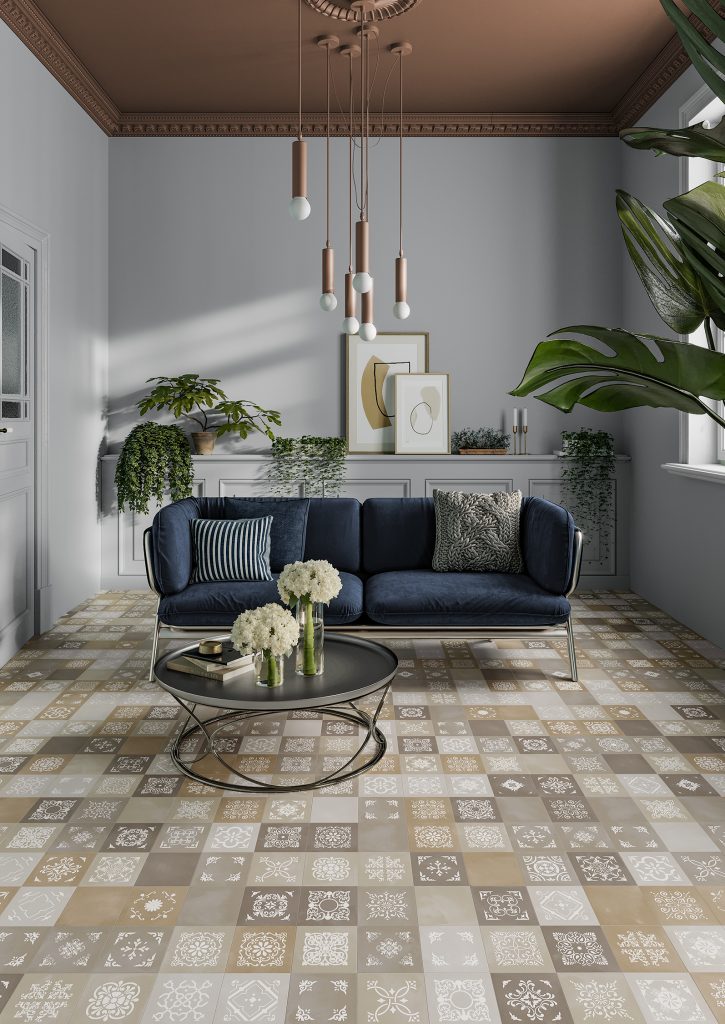 Available in the colours Natural, Grey and Almond and in two formats (13,1"x13,1" and 6,5"x6,5"), Delice is a renewed interpretation of the traditional hydraulic tile in line with the soft heritage trend that is still fully in force.
Delice is a studied project in which digital material and shade selection play a relevant role. In contrast to previous proposals characterised by bright colours and an accentuated geometry, Gayafores now presents a particular version of hydraulic porcelain tile that can be defined as particularly soft, discreet and delicate.
Delice plays at mixing the bases in the shades of Natural, Grey and Almond with the 26 different motifs that star in the collection, thus generating an elegant and timeless design that can be applied to entire floors and walls, in specific areas as a tapestry or carpet to delimit environments or simply to provide a decorative plus. In addition, the collection provides maximum versatility to create original and personal spaces, as it can be combined with stones, marbles, cement or wood with an impeccable result.
LAVIK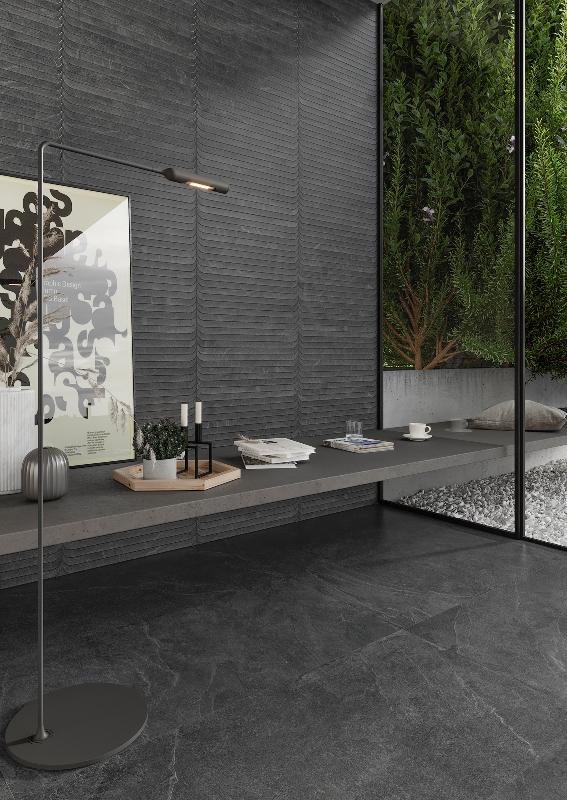 Inspired by a typical type of slate on the north coast of Sognefjorden in Norway, Lavik is a compact, cement-like stone with thin layers that simulate a realistic 3D effect. Taking this fossil rock as a reference, the Lavik Collection includes, on the one hand, a monochromatic base in four different shades (Dark, Grey, Pearl and Almond), and, on the other, a blind-type decoration, with a relief that reproduces gentle undulations in movement. The bases are available in formats 12,6"x24,6", 17,7"x35,5", 23,6"x47,3" and rectified 23,3"x46,9" and the decors are manufactured in 12,6"x24,6" and 17,7''x35,5''.
The Lavik Collection has a serene and minimalist design, very much in line with contemporary trends in which nature exerts an outstanding influence, and its chromatic palette and subtle contrasts make it a firm candidate as a decorative solution for all types of indoor and outdoor spaces.
AURA
The classic marbles are still in full trend in interior decoration, so Aura is a safe bet. With its three formats (32×62.5, 45×90 and 60×120, the latter also in a rectified finish), to which is added a 30×30 mosaic, and its shades Calacatta, Onyx and Crema, Aura represents a reinterpretation of the natural material in which it is inspired, with the support of the latest digital technologies, both in terms of the base structure and in the pieces with relief.
Aura allows you to enjoy extreme versatility, breaking the rules with its application and promoting maximum freedom in this sense, with the guarantee of a result that is always adequate. This is a very complete collection, as the 32×62.5 and 45×90 formats are accompanied by two types of decorations, one in relief with a linear structure that highlights different parameters (Deco) and the other with a digital material effect based on a set of irregular spikes that bring light and subtlety to the whole (Mural).
BRICK GRADIENT
Brick Gradient comes in two formats: 11×33,15 and 33,15×33,15 and with different colours: White, Grey, Blue and Acqua. It also adds a pure white model, Brick Neutral Blanco, perfect for providing a touch of lightness, for delimiting specific areas or for combining with wood, stones, cements, etc. In this way, when applied to walls, results are obtained that flee from monotonous, conventional or rigid effects.
This collection of bricks is fully in line with the type of small piece that identifies much of Gayafores' long ceramic career.
Additionally, Brick Gradient stands out for its powerful decorative load. The alternation of lines, the use of digital materials and a palette of colours ranging from white to grey, passing through a soft blue and a fully trendy aquamarine make this collection a versatile and appropriate choice for contemporary environments in which the aim is to avoid stylistic stridencies and seek calm and comfort.
Finally, there is another outstanding aspect of this new collection, which lies in the wide possibilities it offers in terms of placement, as the pieces can be placed horizontally, vertically, locked or by combining these options.
CARVEN
Carven is available in 32×62.5 (base and deco), 45×90 (base and deco), 60×120 (base and also in rectified finish) and 30×30 (mosaic) formats and three colours: Pearl, Grey and Dark.
Carven stands out for the presence of digital material, creating a surface effect that imitates a type of finish on natural stone inspired by the embossing process, an ancestral technique that gives the support a relief effect by pressure. In this way, implementing the latest digital technology, the image is constructed from the reliefs produced by the incidence of light, giving rise to a contemporary design with a deep minimalist sense and a powerful volumetric imprint in its composition.
Carven's level of natural perfection has been made possible thanks to a studied mix of state-of-the-art raw materials together with the precise application of millimetrically precise grofatto relief techniques. Carven is a product with a basic vocation, manufactured in three shades of grey of different intensity, from a slight pearl to a deep anthracite black, passing through a medium and neutral grey.
The collection is completed with the contribution of a decoration for the formats 32×62,5 and 45×90, composed of multilistons, in which the treated graphics and with finish gofratto are combined with other unaltered, achieving a result as singular as calm.
ABOUT GAYAFORES
Gayafores has more than a century of experience decorating lifestyles and designing timeless environments with ceramic products that are currently exported to more than 110 countries.
Founded in 1897, the company specializes in the manufacture of porcelain floor and wall tiles, with an annual production of more than 3.5 million square meters.
Gayafores has 160,000 square metres of facilities equipped with the latest technology in the sector. These endowments, together with the use of raw materials from leading international suppliers and the professionalism of the human team, make it possible for the final product to reach maximum excellence. Quality is the central axis of Gayafores' philosophy, whose daily work is based on offering new possibilities and decorative solutions, adapted to the needs of each of its markets. An aspect that was recognized in 2015 with ISO 9001 certification.
Along with the quality of the final product, service is another of Gayafores' distinctive qualities, under two fundamental premises: personalized customer service and speed and efficiency in the processes.
And all this with the involvement and commitment of a team made up of more than 135 professionals who work every day with the aim of continuing to make Gayafores one of the reference firms in the Spanish ceramic cluster.
Gayafores is also committed to sustainability and care for the environment, through the efficient use of energy and the reduction and recycling of waste, and has the Integrated Environmental Authorisation and the Global EPD (Integral Product Declaration) certified by AENOR.