Cevisama has issued a call for entries for the 2018 Trans-hitos competition. This is the third time the competition is being run and the initiative involves designing an exhibition space within the Architectural Ceramic Show that Cevisama is promoting in conjunction with Ascer and the Institute for Ceramic Tile Technology (ITC). The winning design will be displayed as part of the exhibition during Cevisama 2018, which takes place from 5th to 9th February at Feria Valencia.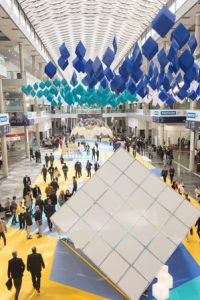 The space is required to make a major feature of ceramic products and be a completely new, original, visually impressive and technically viable design. The competition rules are available at
http://cevisamalab.feriavalencia.com and provide full details of entry requirements. A single prize of  3,000 € will be awarded to the designer or designers of the winning entry. The deadline for registering to enter the competition is 31st July 2017.
Trans-hitos is one of the major attractions at Cevisama every year. Located in the venue's main lobby area, it displays the new uses and applications for ceramic as a material. The winner of the last competition was a design titled "Esencia", by architects Sergio Alfonso and Vicente Picó.