Cevisama opened its doors today at Feria Valencia to a great atmosphere and aisles full of visitors. This first day marked a real coming together again for the sector, which had been very keen for its fair happen. Cevisama will be showcasing hundreds of new products to a trade audience until next Friday.
The President of the Generalitat Valenciana, Ximo Puig, officially opened the ceramic tile industry's foremost event today. Puig underscored the "enormous effort" the ceramic industry has invested in adopting technology, innovating and going digital to tackle the crisis and keep delivering "some very positive results".
Valencia, 27th February 2023 .- The 39th and most keenly anticipated edition of Cevisama, the international fair for the ceramic tile and affiliated industries, bathroom equipment and natural stone, opened its doors today at Feria Valencia.
Business, full aisles, activity on stands… the industry's major fair, Cevisama, started today, bringing the industry together again and showcasing hundreds of new products from more than 500 Spanish and international exhibitors across almost 80,000 square metres of exhibition space, to an audience including professionals from over 100 different countries.
"We are happy with this first day", claims Carmen Álvarez, director of Cevisama. "We Heard different languages around the fair, and saw business being done on stands. This was just the start of a great fair", she added.
The president of the Generalitat Valenciana (the Valencia Regional Government), Ximo Puig, attended the first day of the fair, leading the official opening event and seeing at first hand the new collections and most innovative trends being displayed by Spain's ceramic sector. The industry is centred in the province of Castellón and is currently the leading producer in volume terms in the whole of Europe.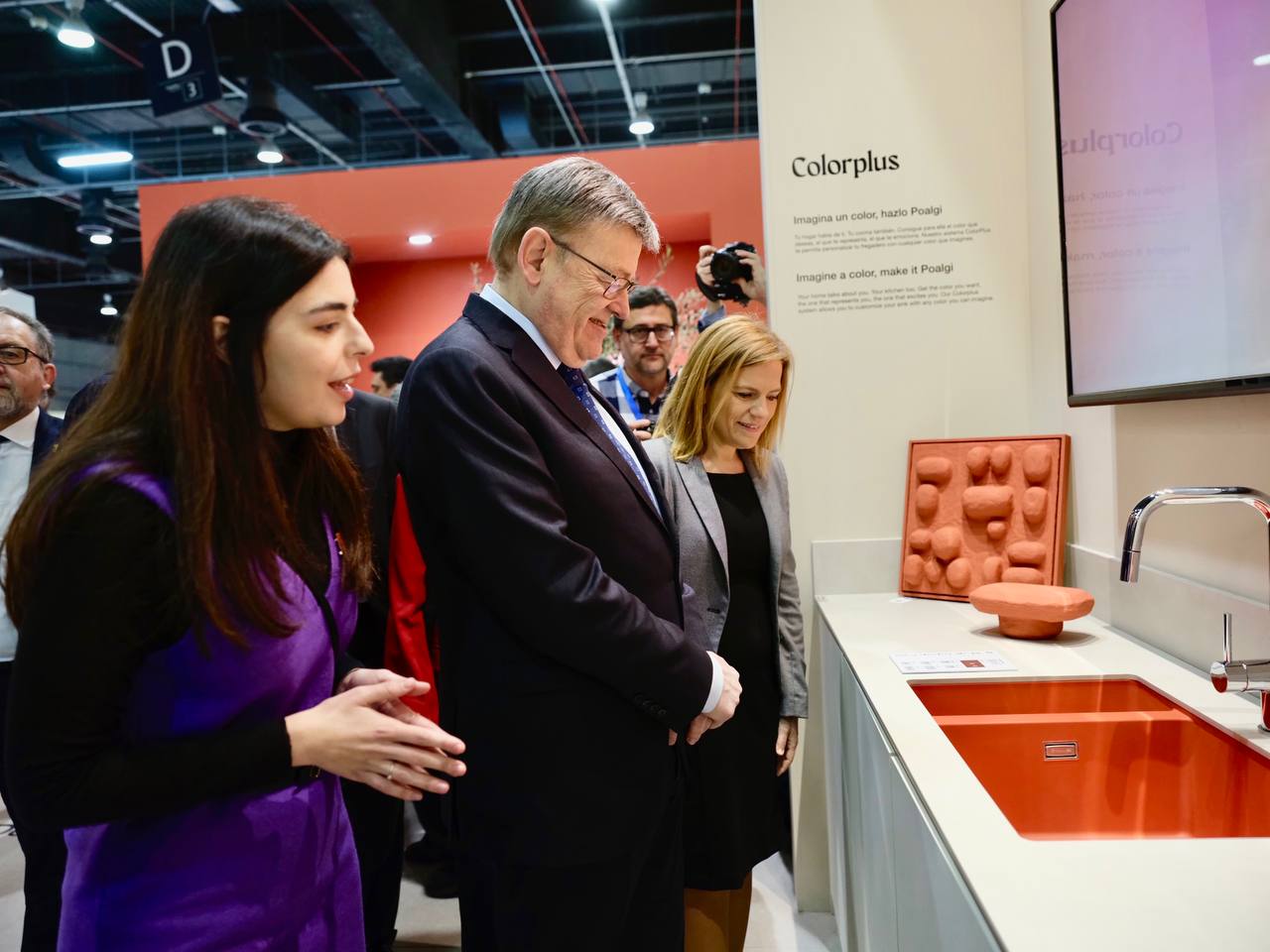 Puig highlighted how important the Cevisama fair is for the tile industry. "This event is key to the industry's internationalization", he stated during the opening ceremony, which the Minister for Sustainable Economy, Production Sectors, Trade and Employment, Rafa Climent, also attended, as did government delegate Pilar Bernabeu and president of the Castellón County Council, José Pascual. Puig indicated that the Generalitat is prepared to support Cevisama so that it continues to be the "point of reference" for both manufacturers and buyers the world over.
Large format tiles, ceramic with bult-in LEDs, special pastel-coloured tiles, current trends in interior design. Innovative bathroom products, waste-reducing microcement, materials that reduce carbon footprints and industrialised construction balconies that are already changing the concept of construction. Collections decorated by famous designers and ceramic and bathroom products that reflect the latest trends in interior design and decorating. Hundreds of new products were o view today that had been waiting to be presented to the industry's professional buyers in the best possible setting: Cevisama.
Alfa de Oro awards for Neolith, Natucer and Gresmanc Group
One of the items on the programme for this first day was the Alfa de Oro awards event. The awards singled out three innovative products on show at Cevisama and are given by the Spanish Ceramic and Glass Society with the aim of encouraging scientific, technological and artistic creativity in those sectors.
The jury comprised experts from the worlds of business and academia related to the ceramic industry and awarded an Alfa de Oro to Neolith (N3 P2 Stand A70), which has developed NEOLITH ICONIC DESIGN, a large format, precision-design vitreous ceramic that synchronises the digital deposition of atomised composites with the surface design.
Manufacturer Natucer (N2 P1 Stand B70) also won an award, for its NATUR-LED product, as did Gresmanc Group (N2. P2 Stand B15) for its solutions for facades. "They have developed the extrusion process technologically so they cn create larger formats and finishes in extruded ceramic", the jury pointed out.
PROGRAMME OF EVENTS, TUESDAY 28th FEBRUARY
10.30. ASCER PRESS CONFERENCE and awarding of the 21st Ceramic in Architecture and Interior Design Awards. Auditorium 3A, Events Centre.
13.00. Tribute to Interior Designer Tono Lledó Marsell. Joaquín Rodrigo Room.
13.30. Cevisama Stand Prize award event. Joaquín Rodrigo Room.
ARCHITECTURE FPRUM. Auditorium 1A, Events Centre.
16.00. Lecture by David Chipperfield. The renovation of the Neue Nationalgalerie, Berlín (Germany).
17.00. lecture by Anne Lacaton. The transformation of housing in the Grand Parc, Bordeaux (Francia).
18.00. lecture by Francis Kéré. Surgical Clinic and Health Centre with hoes for doctors, in Léo (Burkina Faso).
Other events:
09.30. Presentation of new collections with designer Erico Navazo. APE GRUPO stand.
12.00. Visit by Spanish cyclo-cross champion Felipe Orts. Disbain stand.
13.00. AWARD EVENT for the 16th CITY OF CASTELLÓN NATIONAL CERAMIC PRIZES. Province of Castellón Stand – Level 2, Lobby shop No. 2.